SIMUL8's latest edition has just been released. Here are the details on a few of our favorite new features.
3D Modeling is Better than Ever

SIMUL8's 3D modeling has received a complete overhaul. It is now faster than ever, with easy-to-use drag & drop functions. 3D simulations can be made just as easily as 2D simulations. This new functionality utilizes Google Sketchup and its warehouse of online 3D images.
Brand New Graphical Interface

SIMUL8's easy-to-use simulation software is now even easier to use.
The new ribbon interface will be familiar to Office users across the world
It is designed to put everything you need to get started right at your fingertips
SIMUL8 has worked with many power users to design the most efficient interface for the best usability experience
There are contextual tabs to help you locate exactly what you need when you need it
You can access all VL work center events in just 2 clicks
SIMUL8 Live Passport
The SIMUL8 Live passport gives you access to secure online simulation sharing and project management. Create your sign-in credentials once, then access everytyhing on SIMUL8 Live.

Help your team to be more efficient with online, secure project management.
With just a web browser you can access projects at any time, from anywhere
Manage any number of scenarios and revisions and versions of your simulations
Securely store specification and other important documents
Revert between any saved versions easily
Only available to SIMUL8 Professional users with Annual Maintenance
Share a model with clients and colleagues privately and securely. Let them make changes and see the results. This is similar to the SIMUL8 Viewer except that is browser based. As a result there is no need for your users to install software.
Only available to SIMUL8 Professional users with Annual Maintenance
Sliders
Instantly adjust the inputs of your simulation. In SIMUL8 2011 you can drop sliders onto the simulation window and easily link them to any variable. As you slide the bar up and down the variable value is changed.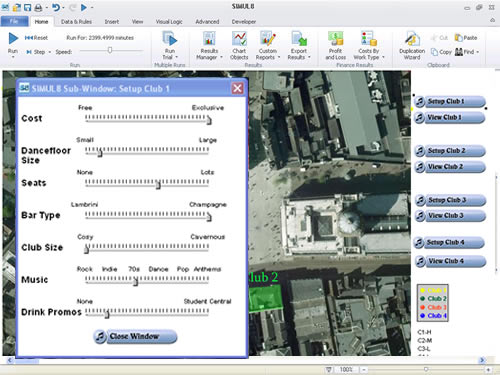 Improved Charts
The new charts are faster, with more functions; they come as standard in 2011 (also available as a service pack for 2010). Now, a user can:
Choose to show a fixed time interval
Fix axes so they don't grow during a run
Choose to only show a subset of the chart data, so only the most relevant data is on screen

Sub Windows as tabs
Set your displays to focus on different areas of your simulation, such as a results only windows. With this new option you can:
Have sub windows as tabs at bottom of your SIMUL8 window
Use arrows to move quickly between windows
Use right click tab to open sub window properties or to close a tab. Right click to reopen tabs.
Have an option to add new tab
Choose whether to show the sub window icon on your screen
Annotations
Add run time descriptions to tell the story, so anyone can follow and understand your simulations easily. This will allow you to:
Tell the story remotely
Create better demonstrations for clients and colleagues
Highlight the most important elements in your simulation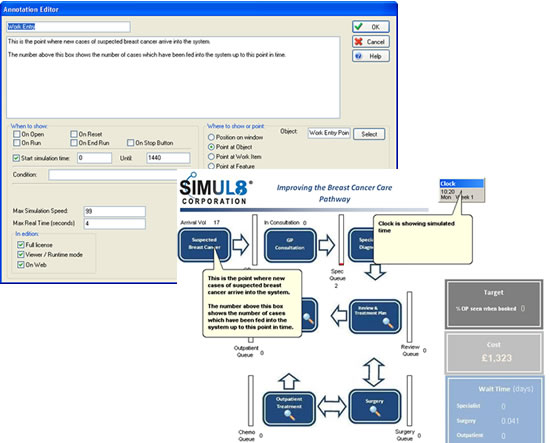 Clock Formatting
Updates to the SIMUL8 clock allow you to improve the clock's visibility across displays and control its appearance and functionality more easily. Now, the user can:
Pin the clock to main simulation window, or have it in a floating window
Expand the clock to any size
Choose not to display the clock when you've made your own with Visual Logic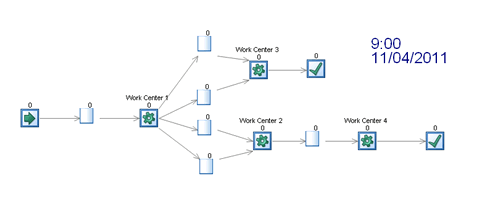 Work Times for Parent and Child

Split your work item to have "children". The child work items are distinct but always connected to their parent.
For example, in a hospital a patient has blood samples taken. In this case the patient is the 'parent', their 'child' is lab results
New Actions
With SIMUL8 2011 you can change variables without any Visual Logic coding. You can now do more than just increment or decrement - you can enter a formula editor expression so that real power is added to your simulation. Previously you only had the option to change label values.
Now, you can easily record your own results, without having to add Visual Logic code - saving time and effort.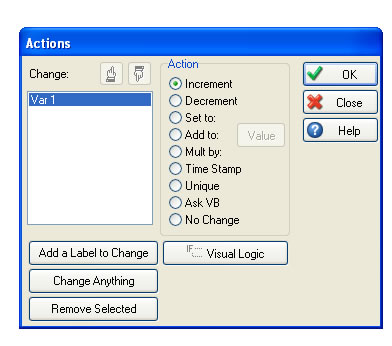 Multi Phase Machines
Simulations are now faster to build and results easier to collect because of the multi phase machines; hence, the need for creating multiple work centers is reduced.
Machines (or work centers) can have more than one cycle. Resources can be used on some but not others
Now you can easily use different resource types on different phases of a work center.